Hallo Survivor´s,
wir haben heute 2 größere Updates für euch:
1. Farmersupdate: Ab sofort wird jetzt Pflanzkiste ob groß oder klein direkt mit dem neuen Modul platziert. Wie ihr auf dem Bild sehen könnt ist in der Pflanzkiste ein Sprinkler, ein Verteiler und 2 Kisten verbaut. In die linke Kiste kommen Samen, diese werden automatisch gepflanzt sobald platz in der Pflanzbox ist. Ist die Pflanze ausgewachsen wird sie automatisch abgeerntet und in die rechte Kiste gelegt.
We have 2 major updates for you:
1. Farmers update: From now on, plant boxes, large or small, will be placed directly with the new module. As you can see in the picture, a sprinkler, a distributor and 2 boxes are built into the plant box. Seeds are placed in the box on the left, these are planted automatically as soon as there is space in the plant box. When the plant is fully grown, it is automatically harvested and placed in the right box.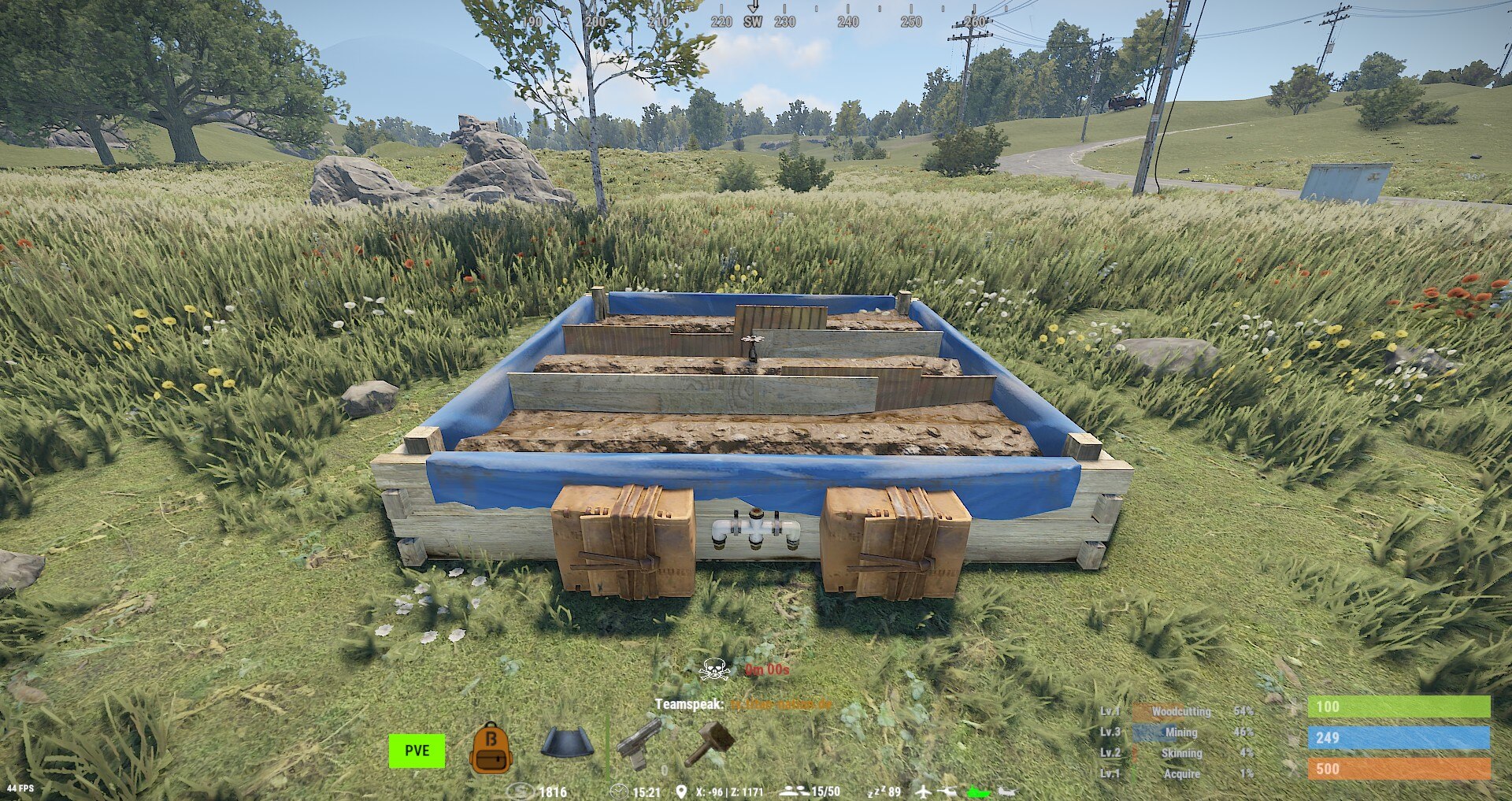 ========================================================================================================================================================
2. Funkgeräte: Ihr könnt euch ab sofort in der Town für 500 Scrap ein Funkgerät kaufen. Wie ihr jetzt rechts seht habt ihr ein Symbol für das Funkgerät. Wenn ihr am Funkgerät die Frequenz eingestellt habt ist es aktiv. Sobald Ihr nun die Push to Talk Taste und die Maustaste (Funkgerät in der Hand) drückt, könnt Ihr euch quer über die Insel mit jemand anderem unterhalten. Ihr seht oben (wie auf dem Bild gezeigt) neben dem normalen Push to Talk Symbol auch das Funk Symbol wenn Ihr funkt.
2. Radios: You can now buy a two-way radio in the town for 500 Scrap. As you can see on the right now you have a symbol for the radio. If you have set the frequency on the radio, it is active. As soon as you press the Push to Talk button and the mouse button (radio in hand), you can talk to someone else across the island. You can see above (as shown in the picture) next to the normal Push to Talk symbol also the radio symbol when you are radioing.